Since 2013, Nautical Life & Leisure have supplied thousands of Aqua Lily Pad floating water mats throughout Australia & New Zealand. The Aqua Lily Pad continues to be the number 1 selling water mat…
and there's a reason for this…
Wholly Manufactured in the USA, Under Patented Design Licences, the Aqua Lily Pads offer a 12 month Manufacturer's warranty, fully supported by Nautical Life and Leisure, the Aust & NZ exclusive distributor for the Aqua Lily Pad floating water mat product.
FlexCore Flexibility
Adds strength and puncture resistance to Pads.
Lightest weight reinforcing structure available.
Pads remain flexible and easy to roll up (perhaps the biggest feature of the ALP's).
Structure has no roll-memory – Pads lay flatter quicker when unrolled.
Provides pads with "rip stop" feature (liken to rip stop nylon fabrics in tents).
UV Stabilization & Graphics Advantage
UV Stabilization & Graphics Advantage
We will NEVER sell a Pad without our Aqua Lily Pad graphics on the pads.
"Aqua Lily Pad" and our Yellow / Green colored Pads are Registered Trade Marks (Reg. No. 4,476,351) from the U.S. Patent and Trademark Office.
Our Graphic's film is the first line of defense against the degradation effects of the sun.
Proprietary Stabilization Package is proven 3 years in CA (pursuant to care and use instructions as outlined in Owner's Manual).
Protects product from pool chemicals (chlorine/bromine etc) and salt water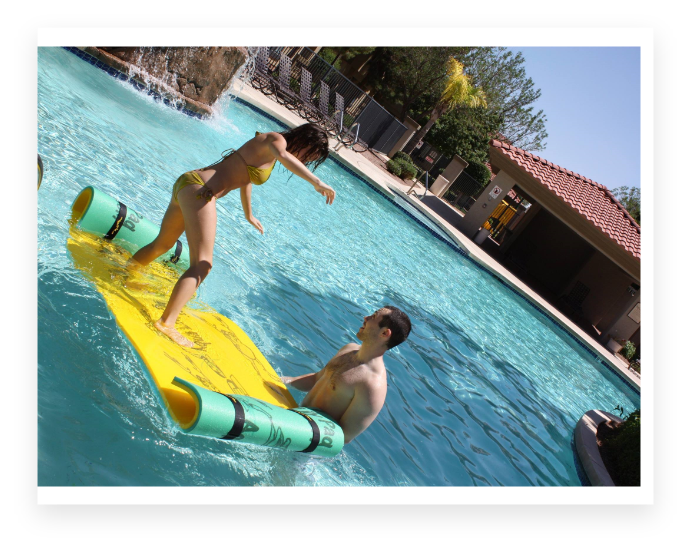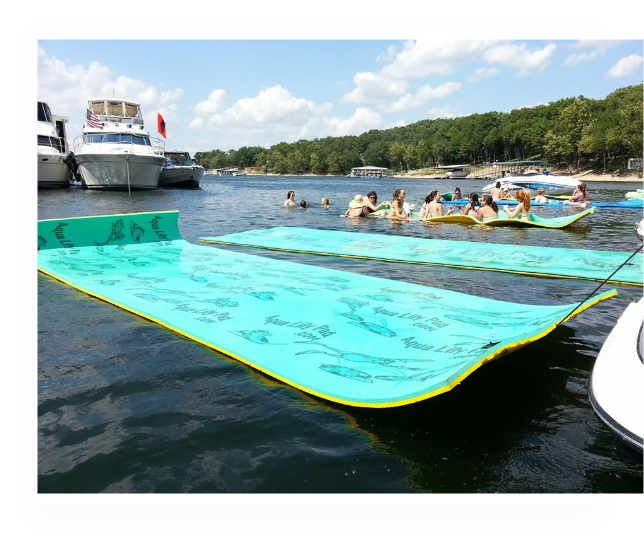 Your Aqua Lily Pads come with:
An anchoring device with Bungee cord & safety clip to attach to your boat, wharf etc, Velcro straps to secure your mat when rolled and an Owners manual and one year limited warranty.
Tether System Advantage
Tether System Advantage
Proprietary Tether Snap (grommet) System.
One Time Snap feature – easily installed (additional tethers can be purchased)
Made with Plastic engineered material with no sharp edges to catch feet or toes and will not heat up in sun that can cause burns like metal "D" rings.
Heavy Duty Nylon Spring Clip for tethering will never corrode.
Why choose Aqua Lily Pad?
Patented technology
Aqua Lily pads patented flex core technology combined with marine grade cross linked UV resistant material is the reason why Aqua Lily Pads last year after year when others don't.
UV Resistant Material
Avoid the disappointment of imitations that lack technology, leading to early UV degradation & limited durability.
Safe & Reliable
Aqua Lily Pad is the smarter choice for families who have peace of mind knowing their friends & family are safely enjoying the quality, reliability & durability that only a genuine Aqua Lily Pad can provide.